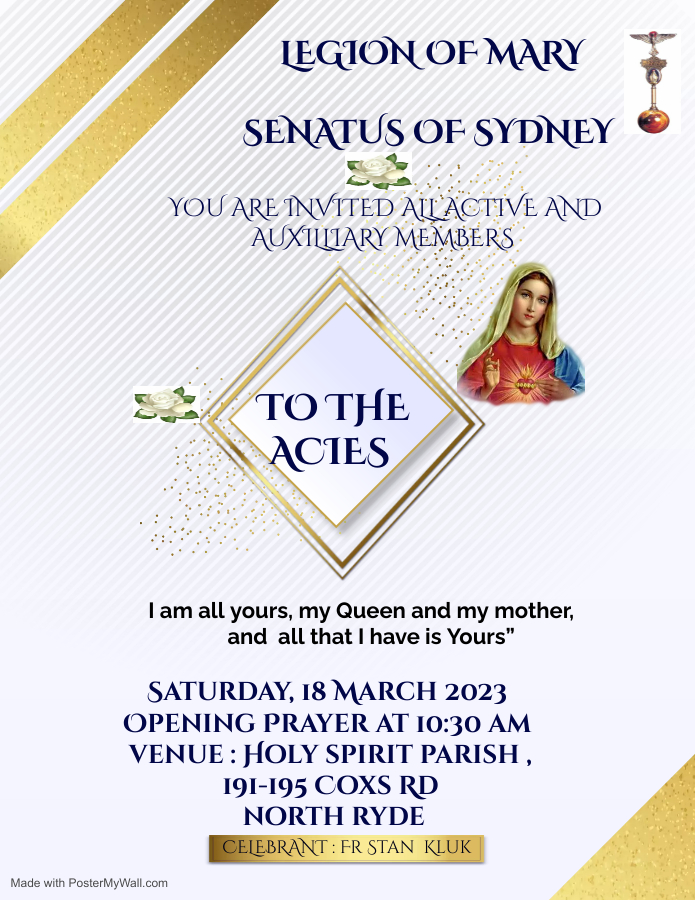 What is this " ACIES "
The best way to describe the "ACIES" is that it is the most important Legion function of the year. During this ceremony we will consecrate ourselves to Mary by renewing our Legionary Promise, so that we may better work in union with her as we do our Legionary battle against the evils of this world. In this consecration we open our hearts to Mary, so that she may guide us and bless us through the year. It is said that one cannot be truly devoted to our Lady's legion if one does not attend this ceremony, as you will not have within you her spirit.
             Legion of Mary Senatus of Sydney
                     The Acies 2023
All active and auxiliary members are called to renew their consecration to our Blessed Lady.
'Confident that you will so receive me-and use me- and turn my weakness into strength this day,
I take my place in the ranks of the Legion, and I venture to promise a faithful service'
The Acies will be held at the following venues
Further Enquiries: (02) 9660 6131
| | | |
| --- | --- | --- |
| Sydney Councils | Date & Time | Venue |
| Senatus of Sydney | Saturday,18 March 2023 at 10:30AM | Holy Spirit Parish,191-195 Coxs Rd.North Ryde |
| Blacktown | Saturday,25 March 2023 at 2:00PM | Good Shepherd Parish Plumpton.136 Hyatts Rd. Plumpton. |
| Cabramatta | Saturday,25March 2023 At 9:30 AM | St Brendan Catholic Church, 50 Northam St.Bankstown |
| Campbelltown | Saturday,25th March 2023. At 2:00PM | St John the Evangelist Catholic Church Campbelltown |
| Illawarra | Saturday,25th March 2023.At 2:00PM | St Catherine's.123 Gymea Bay Rd. Gymea |
| Marrickville | Saturday,18 March 2023 At 9:00 AM | St Christopher Church. 235 Tower St,Panania |
| Normanhurst (Korean) | Sunday,26th March 2023 At 12:30PM | Queen Of Peace Catholic Church, 18 Stuart Ave, Normanhurst NSW 2076 |
| Northern Suburbs | Saturday,25 March 2023 At 10:00AM | Sacred Heart Church.1 Keenan St. Monavale .NSW 2103 |
| Revesby (Vietnamese) | Saturday,25 March 2023. At 8:30AM | St Luke Church. 92 The River Rd. Revesby 2212 |
| Silverwater (Korean) | Sunday,05 March 2023. At 12:30PM | Sydney Korean Chatolic Church,26 Carnavon St. Silverwater |
| Bathurst | Saturday, 25 March 2023. At 8:00AM | The Assumption Church,Margareth st.Bathurst |
| Canberra Goulburn | Saturday,25 March 2023. At 10:30AM | St. Josephs Parish Hall,61 Boronia Dr,O'Connor ACT 2602 |
| Brisbane | Sunday,26 March 2023. At10:30 AM | St. Patrick's Church,58 Morgan St, Fortitude Valley QLD 4006. |
| Murwillumbah | Sunday,26th March 2023. At 9:00AM | St. Joseph's Church, Tweed Heads |
| Auburn Bankstown | Saturday,25th March 2023. At 11:30 | St. Mel's,7 Evaline St.Campsie NSW 2194 |
| | | |